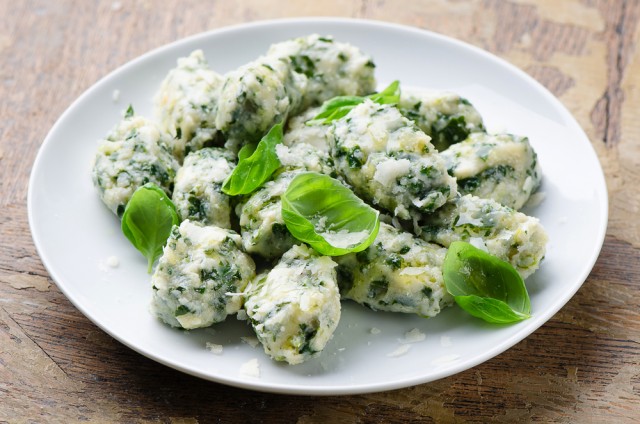 First, prepare the white meat and mushroom sauce and boil the potatoes.
Clean the mushrooms well with a damp cloth, then cut them into pieces as small as possible.
Chop the carrots and celery and chop the onion as finely as possible.
Place the sautéed vegetables in hot oil and fry in a large, high-sided frying pan.
Add the veal and then the pork, let them mix together and at the same time shell them so that the pieces of minced meat separate from each other.
Add the white wine and let it evaporate slightly, then add the mushrooms and stir well to mix well with the other ingredients.
Finally, add the vegetable stock and a generous sprinkling of nutmeg.
Continue cooking for about 1 hour over low heat so that the mixture reduces in size.
While the meat sauce is cooking, peel the potatoes, mash them and puree them.
Put the mashed potatoes, flour, egg, Parmesan cheese and chopped basil into the mixer's planetary mixer. Season with salt and turn the arm. Knead until the dough is smooth and elastic.
On a floured pastry board, continue to knead the dough by hand for a few minutes.
Divide the gnocchi dough into pieces and roll each piece into a string of dough. Then, with a knife, cut the strings into pieces of about 2 cm, and place the resulting gnocchi in a tray, dusting them with flour to prevent them from sticking together.
Cook the gnocchi in plenty of salted water.
When they have all risen to the surface, drain them and pour them into the pan with the meat and mushroom sauce.
Sauté for a few minutes, sprinkle with Parmigiano Reggiano and continue stirring.
Serve immediately.