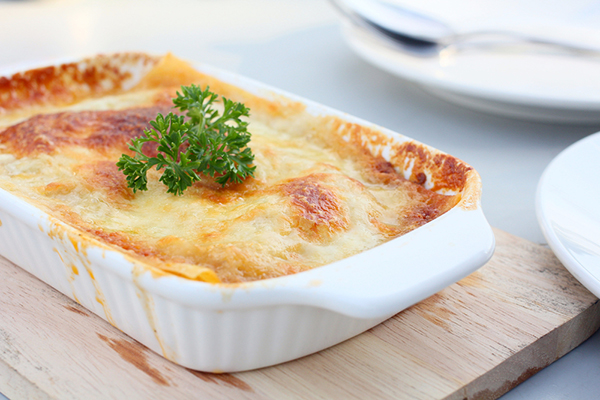 Carefully clean the mushrooms, remove the woody parts and slice them roughly.
Heat the oil and fry the garlic briefly, then fry the mushrooms, adding a little water, and sprinkle with chopped parsley when cooked. Take care that the mushrooms are not too dry. Remove from the heat and leave to cool.
In the meantime, transfer the b chamel sauce to a saucepan, dilute it with a little milk, grate in the nutmeg and heat it slightly.
Transfer the mushrooms with their cooking liquid into the blender bowl and blend until smooth and homogeneous and add to the b chamel sauce. Stir everything well to mix it all together.
Cut the speck into julienne strips with a sharp knife.
Turn on the oven and bring it to 200° .
Cover the bottom of a rectangular ovenproof dish with a layer of b chamel sauce with mushrooms, place the pasta on top of this layer and spread another layer of b chamel sauce with mushrooms, a little speck and a sprinkling of grated Parmesan cheese. Continue in this way until all the ingredients have been used up, taking care to finish with a layer of b chamel sauce, speck and Parmesan cheese, which will become gratinated during cooking.
Bake for 30 to 35 minutes, or until the b chamel sauce and cheese on the surface have set and formed a golden crust.
Remove from the oven, leave to cool slightly and serve.